Trekking in the nature means to be a part of a thrilling and exciting adventure experience. We are lucky to have many such places in India that can be your dream destination for trekking and camping. So, here are some of the famous and heart stealing destinations in India which are loved and praised by trekking lovers.
1. Valley of flowers trek, Uttarakhand :
The Valley of Flowers trek is present in Uttarakhand and this track comes in beautiful trekking spots. The Valley of Flowers trek in Uttarakhand takes you to the UNESCO World Heritage Site and the Sikh pilgrimage site of Hemkund Sahib. The distance of this track is 55 kilometers and the height is 3658 meters. During the monsoon season, the entire valley is filled with colorful Himalayan flowers, making the view nothing less than a paradise. People of any age can come here to enjoy trekking. The fun of trekking at this place is from July to September.
2. Roopkund Trek, Uttarakhand :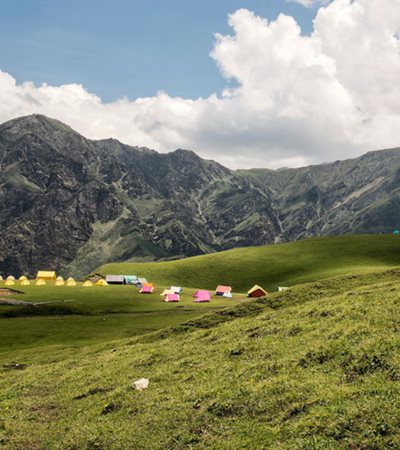 Roopkund Trek starts from Lohajung at an altitude of 3200 meters and takes you to a lake called Roopkund, which is situated at an altitude of 5029 meters. The lake is popular for the human skeletal remains that were found at its bottom. A distance of 53 km has to be covered in 7 to 9 days. Through the noise of rivers, you pass through lush green forests. There are Hindu temples, Himalayan peaks such as Nanda Devi and Nanda Ghunti, as well as many bird species and lush green flat plains. In order to take full enjoyment of this place one must visit between may and october.
3. Dzongri Trek, Sikkim :
Sikkim's Dzongri track is one of the most popular tracks in India. The level of this track is easy to moderate level, which you can complete in 5 days. Yuksom is the starting and ending point of this trek. The distance of this track is 21 km, with a maximum altitude of 15,000 feet. If you do not have much time and want to enjoy trekking to the top of the Himalayas, then Dzongri La Peak, and Mount Kangchenjunga are the best treks. In this track, you will go through Sachen, Bakhim, Shokha, Kacchenjunga National Park. The best time to visit here is from April to June and October to December.
4. Harihari Fort Trek, Maharashtra :
If you are a adventure fanatic then this destination is THE best spot for you. You can reach Harihar fort from Nasik (42km) and Trimbakeshwar (22km). You can reach Harihar Fort by trekking 2 km from Harshawadi. The climb of Harihar Fort is somewhere 70 degrees and somewhere 85 degrees straight. This fort is situated at a height of 3674 ft. To reach the top, you have to take 117 steps which have been made by cutting stone. You can climb the stairs monkey style.
Although Harihar Fort can be visited in any season, but in monsoon the view here is amazing. Hundreds of small and big waterfalls can be seen everywhere and the nature of the greenery is such that some green carpet is laid below.
5. Kumara Parvata Trek, Karnataka :
Kumara Parvatha is one of the most famous trekking locations in Indian. In Kodagu, it is one of the most significant peaks and a number of people from all around the globe come to visit this place. It is one of most hardest treks in the country as well, so you will be provided with professional guidance, while you're beginning your trek. Even though it is a bit hard, it is still considered to be one of the most beautiful locations to be at, as you will be witnessing picturesque landscapes and lush green lands, that will make the calorie-burning totally worth it. Although the Kumara Parvatha trek can be undertaken anytime, the best time to visit are from October to January and from June to September. The summers in South India are extremely hot and humid and you will not get to experience the beautiful greenery around. The humidity will also sap you off your energy.