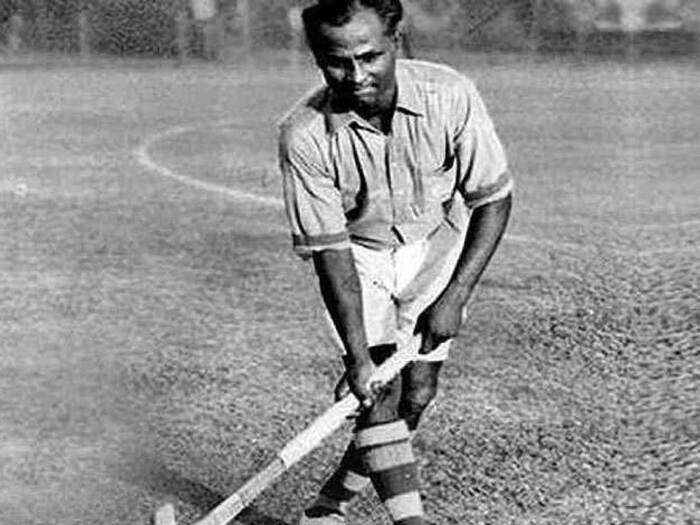 Major Dhyan Chand (29 August 1905 – 3 December 1979) was an Indian field hockey player widely regarded as one of the greatest in the history of the sport.[3] He was known for his extraordinary goal-scoring feats, in addition to earning three Olympic gold medals, in 1928, 1932 and 1936, during an era where India dominated field hockey. His influence extended beyond these victories, as India won the field hockey event in seven out of eight Olympics from 1928 to 1964.
Dhyan Chand was born in Allahabad on 29 August 1905 in a Bais Rajput family. He was the elder brother of another hockey player Roop Singh and the son of Sharadha Singh and Sameshwar Singh. Dhyan Chand's father was enlisted in the British Indian Army, and he played hockey for the army.
Dhyan Chand had two brothers – Mool Singh and Roop Singh. Because of his father's numerous army transfers, the family had to move to different cities and as such Chand had to terminate his education after only six years of schooling. The family finally settled in Jhansi, Uttar Pradesh, India.
Chand graduated from Victoria College, Gwalior in 1932. Being in the military, his father got a small piece of land for a house.
Young Chand had no serious inclination towards sports though he loved wrestling. He stated that he did not remember whether he played any hockey worth mentioning before he joined the Army, though he said that he occasionally indulged in casual games in Jhansi with his friends.
Some Interesting Facts:
While winning the bronze medal in hockey in the Tokyo Olympics, the players gave a chance to the countrymen to rejoice, while on Friday, Prime Minister Narendra Modi gave another chance to the hockey lovers to rejoice. He has changed the name of Rajiv Gandhi Khel Ratna Award, the biggest award in the field of sports, to Major Dhyan Chand Khel Ratna Award. Prime Minister Narendra Modi gave this information through a tweet.
For the first time this award was given in 1991-92. It is given to those sportspersons who have excelled in the field of sports at the international level. Hockey lovers have expressed their happiness after the name of this award is named after the legendary player Major Dhyan Chand, who is called the magician of hockey.
Hockey magician Major Dhyan Chand had a wonderful art of scoring goals, when his hockey rose in the playground, the opposition team was shattered. Born in Allahabad, this great player has won gold medals for India in 3 Olympic Games. Till now you must have heard many things about their game, today we will tell some interesting facts related to them.
Dhyan Singh, as he was formerly known. At the age of 16, he joined the Indian Army as a soldier and started playing hockey. Because Dhyan Singh used to practice in the moonlight at night, his friends started calling him Chand, after which he came to be called Dhyan Chand.
India defeated Germany 8–1 in the 1936 Olympic hockey final. In which Dhyan Chand alone scored 3 goals. After this victory of India, Hitler immediately left the stadium and left. In the evening, when Hitler asked Dhyanchand what do you do other than playing hockey, his answer was that I am a soldier of the Indian Army. After this Hitler offered him to join the German army. But he refused saying that it is my responsibility to take the country forward.
This great hockey player represented the country in the 1928, 1932 and 1936 Olympics and managed to get the country gold medals on all three occasions.
Residents of Vienna have erected a four-handed statue of Dhyan Chand in a sports club in honor of Dhyan Chand, holding a hockey stick in all four hands, depicting him as a hockey god.
It is said that once while playing hockey, Dhyan Chand could not score any goal, due to which he argued that the goal post was small, when the goal post was measured, it turned out to be small, everyone was surprised to see this.
Film actor Prithviraj Kapoor was a fan of Dhyan Chand, once he brought famous singer Kundan Lal Sehgal ( K. L. Sehgal ) with him to a match in Mumbai. When no goal could be scored till half time, Sehgal said that we have heard many names of both the brothers, I am surprised that neither of you could score even a goal till half time. Dhyan Chand then asked Sehgal if you would make us recite songs like Hum Jeet Gol Mare, he said yes, then in the second half, both the brothers scored 12 goals together.