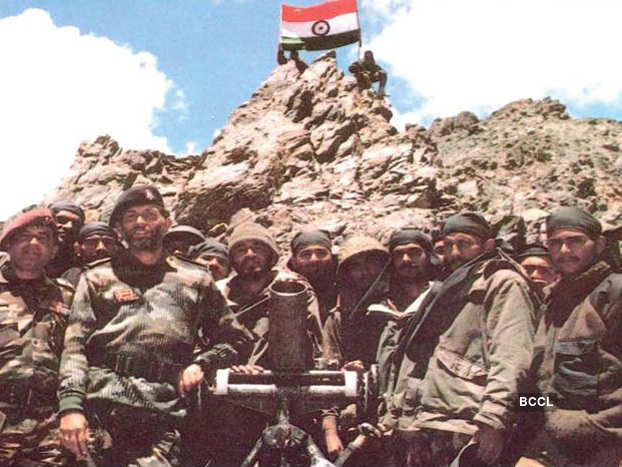 Many books have been written on the Kargil war between India and Pakistan, in which those aspects are mentioned, which are not known to the common people.
Pakistani journalist Naseem Zahra's book "From Kargil to the Cop: Events that Shook Pakistan" is one of them. On 20 years of the war, BBC correspondent Shumaila Jaffrey spoke to Naseem Zahra about his book and some of the developments mentioned in it. Today, 22 years of Kargil war have been completed.
Naseem Zahra said that initially Pakistan's plan was to capture some mountain peaks in Indian-administered Kashmir and then close the Srinagar-Leh highway. Closing this road was one of Pakistan's major strategies as it was the only way India used to send military weapons to the soldiers stationed in Kashmir.
According to Naseem, Pakistani generals planning the Kargil attack believed that the situation would worsen and India would be forced to negotiate on the Kashmir dispute, but the way Pakistani soldiers were fighting, they were no less than the eighth wonder of the world.
She says that "the interesting thing about Kargil is that Pakistanis can be proud of it and sad too. The way the young soldiers were sent there (Kargil), the cold winter they reached there and The circumstances in which he fought valiantly is a reason for pride, but the question also arises that why was he sent there?"
Naseem Zahra says that "Pakistan Army initially inflicted heavy losses on Indian forces. Indian Army didn't even know what happened. And Indian generals were saying that they would give them (Pakistani soldiers) a few hours or something." Will throw you out of your area in days."
According to Naseem Zahra, initially the Pakistani army and fighters had the advantage that they were sitting on the tops of the mountains and it was very easy to attack the Indian soldiers from above, but later the situation changed. However, there has been no response from Pakistani military officials on these claims of Naseem Zahra.
Big Mistake :
Naseem Zahra says that when the Indian Army gradually realized what had happened, it called for Bofors artillery, which are not usually used in such operations. "If you ask what changed the Kargil war, it is the Bofors guns. Indian soldiers stationed them on the same Srinagar-Leh highway that Pakistan wanted to block. Broken into pieces and the Indian Air Force was continuously bombarding from above. This fact has been confirmed by both the countries.
Naseem Zahra said that even after coming down from the Kargil hills, Pakistan had to suffer heavy losses. "There were no roads or vehicular routes for them to return, nor were they returning in a friendly environment. It was very difficult to return from the altitude of 16 to 18 thousand feet of mountains. Many trenches had to be crossed and up It was very cold. When Indians got an opportunity, they took advantage of it and retaliated fiercely. The war was for a very short time but it was fought in a fierce manner."
Naseem Zahra says that India used its air force well in Kargil, but Pakistani delayed it. She says that it is not yet clear how many people were killed in Kargil. "Some people say that three hundred were killed, some call it two thousand, but the number of soldiers in the number of two thousand probably did not go there. When I talked to the army people about this they said that such a big Not many people were killed. It was a big mistake."
Kargil - Siachen issue :
Naseem Zahra also says that the plan of Kargil was under consideration for many years, but it was completed in 1999. "This plan was presented by General Pervez Musharraf to Benazir Bhutto. He refused it. It was discussed earlier also during the time of General Ziaul Haq." According to Naseem Zahra, the Kashmir issue was the main reason for the Kargil operation. Apart from this, the issue of Siachen was also one of the main reasons.
Four generals executed the war :
Naseem Zahra says that the Kargil war was carried out by four generals of Pakistan. According to him, the four generals included the then Army Chief General Pervez Musharraf, Major General Javed Hasan, General Aziz Khan and General Mahmood Ahmed. The top leadership of the army was unaware of this operation.
According to Naseem Zahra, the four generals were stationed on the Line of Control. He was passionate about the Kashmir issue. They believe that for the Kargil war, these four generals had executed it without formal permission from the elected government. It was a kind of violation of the rules. In February 1999, an agreement was signed between Nawaz Sharif and Atal Bihari Vajpayee in Lahore, according to which both the countries had shown commitment to start a new relationship through talks.
'Be the winner of Kashmir' :
According to Naseem Zahra, the then Prime Minister Nawaz Sharif learned about the Kargil operation during a briefing held on May 17, 1999, weeks after the troops crossed the Line of Control. Naseem Zahra says, "The then Foreign Minister Sartaj Aziz understood the situation that some soldiers of our army had crossed the Line of Control. He told the PM about this and said that Prime Minister we are talking to India. Were."
She says, "These things were happening after the Lahore summit." But according to Naseem Zahra, initially Nawaz Sharif really believed that the army could be successful in resolving the Kashmir issue with this operation. "Sartaj Aziz explained that international forces, especially the United Nations will not accept this and America will always support India. To which Nawaz Sharif said that no Sartaj sir, we can never achieve Kashmir by meeting and exchanging files. can do."
"Then General Aziz Khan told Nawaz Sharif that Quaid-Azam Muhammad Ali Jinnah created Pakistan, now is your chance, you become the conqueror of Kashmir."
Relations between the countries were getting better but....
Naseem Zahra says that relations between India and Pakistan were getting better, but at the same time General Pervez Musharraf carried out the Kargil war. "Vajpayee had come to Pakistan and Pakistan had given a warm welcome to the Prime Minister of India, he had come to hold talks and it was going on. Later, General Musharraf requested India several times for talks. To bring India to the negotiating table. For that he had to go to India on his knees.
Naseem considers them wrong, those who say that this war has benefited Pakistan in the matter of Kashmir." Facts do not support this. According to the facts, it was such a wrong move that Pakistan had to go through the process of talks for years. Had to try to start again. Even though India did 1971 and Siachen but Pakistan's decision of Kargil war was very irresponsible. It damaged the image of Pakistan.
However, Naseem Zahra believes that no loss or gain is permanent. Countries get an opportunity to review their policies.