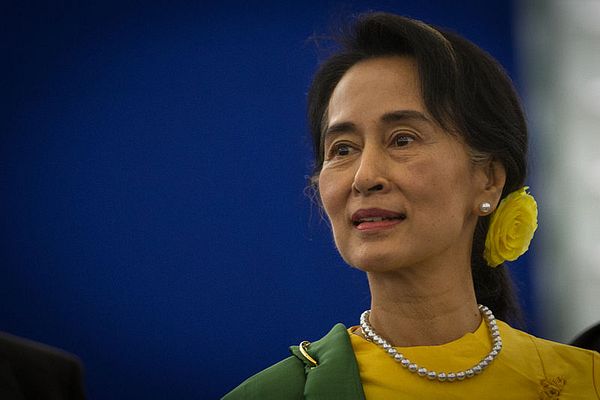 In 2018, a year after the alleged genocide of Rohingya Muslims, Aung San Suu Kyi could not stop praising the military rulers in her cabinet. At that time she was defending them at every step, while most of the world were criticising the military action against the minority Rohingya Muslims.
Now three years later, when she is once again under house arrest and the main victim of this coup, her decision to defend the army appears to be 'a bad decision'. It is difficult whether Suu Kyi then defended the army for personal, political or patriotic reasons. But her supporters will tell you that she was in difficult situation and it was difficult for her to go against the current.
While her critics say that she could have said at least two words to share the pain of Rohingya Muslims at that time. Well, whatever it is now, the prospects of a democratic Myanmar are scare at the moment.
Suu Kyi's image is believed to have tarnished, but she still has huge fans in Myanmar and her popularity cannot be understated. In the recently held elections, Suu Kyi's National League for Democracy party won over 80 percent of the vote. This was his big victory. Even today, Suu Kyi's posters, paintings and calendars that you see everywhere when you walk through the street of Yangon city point to the popularity of 'Mother Suu Kyi'.
However, now there is noise of protesters in these streets. They are registering their protest by playing utensils and they want Suu Kyi to be released. Traditionally in Myanmar, it is customary to play utensils ' to drive away ghosts(evil spirits)'. People are writing on social media that 'they are now playing utensils to drive away the army, so that Aung San Suu Kyi can be free'.
Wai Nu, a social activist working for the rights of Rohingya Muslims, posted a video of the streets of Yangon on social media, with her writing that "it is very painful to watch".
"In this footage, a picture that caught my attention was a symbol of Myanmar's violent and tragic history. The photo flashed by smartphone lights was of General Aung San, the father of Aung San Suu Kyi, who is still talked about in Myanmar to this fay. Spoken with respect. He was assassinated before he got independence from British rule. His popularity was very high then.
He was also the founder of the modern Burmese Army, also known as Tatmadaw. The same army has now taken his daughter captive and once again snatched her freedom.
People believe that the earlier movements in Myanmar - whether it was the 1988 and 2007 movements - were all forgot on the ground. But this time the fight has to be online. Facebook is said to be the most important platform in this which is used the most in Myanmar. Facebook is the main medium for sharing news and perspectives in Myanmar. This is the reason why Myanmar's military first banned Facebook after the coup.