Operation Polo is called the military campaign after which the princely states of Hyderabad and Brar joined the Indian Union. This was needed because the Nizam of Hyderabad Osman Ali Khan Asif Jah VII decided to remain independent after the partition of the country. The continuation of an independent princely state in India was not acceptable to the government. Sardar Vallabhbhai Patel, the principal architect of India's political integration, made it his priority.
Attempts were made to persuade the Nizam but he refused to sign the treaty. The army was sent in defeat and Hyderabad joined the Indian Union on 12 September 1948.
Emergency-like situation was created for the first time in India on September 13, 1948. This was different from the Indira Emergency of 1975. On this day 36,000 soldiers of India camped in Hyderabad. From 13 to 17 September, there took place a genocide which shook whole Hyderabad. It was said that thousands of people were shot standing in line. The army called it 'Operation Polo'. In some part it was also called 'Operation Caterpillar'. Sardar Patel told the world that it was 'police action'. Read the story of Hyderabad meeting in India.
One of the world's richest people, Nizam wanted a separate country:
After the independence of India, many princely states wanted their separate country. But the Indian government was not ready for this. Because it was not possible. No argument went in favor of his point. As a result, either out of love or reprimand, everyone had to unite with India. But some princely states had made up their mind to challenge India. One of these princely states was the princely state of Hyderabad.
Here the lineage of Asafjah who came from Samarkand used to run. These people were the governors of this princely state on behalf of the Mughals. After Aurangzeb, they were ruled here. They were called Nizams. So in 1948, Nizam Osman Ali Khan Asafjah used to rule the seventh subject, which was mostly Hindus. The Nizam was one of the richest people in the world at that time.
The Nizam's dream was to have a separate country of its own. For this, apart from his army, he had made a separate army. In which there were people from the Muslim community. They were called Razakars. Before this, the Nizam had also gone to the British government. That they should have their own country under the Commonwealth.
But Mountbatten refused. A. G. Noorani has written that Nehru wanted to settle the matter through dialogue. But Sardar Patel did not have the patience to talk.
Agreements were broken, talk reached from country to America:
Till now there was an agreement with Hyderabad that you should run your state now. Just the Government of India will see your foreign relations. Also you don't have to have any relation with Pakistan. But the princely state of Hyderabad had also given crores of rupees to Pakistan. Due to this, both the parties kept accusing each other of breaking the agreement.
The princely state alleged that the Indian government was besieging them from all sides. The government said that you are not even using our currency. Weapons are being imported from Pakistan. Razakar's army is being built. What do you want?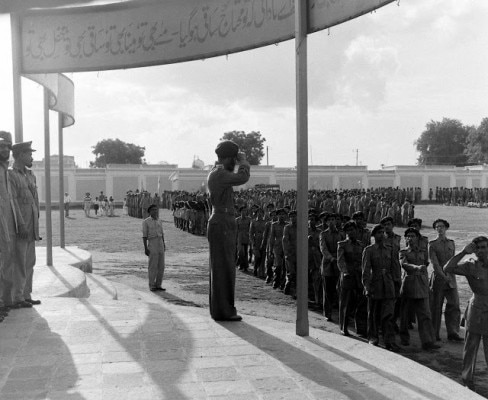 Mountbatten again placed an agreement in June 1948. According to this, everything will continue as it is. Nizam will remain head of state. But gradually the decision of the people will be brought. The Government of India agreed. But the Nizam was not ready. He wanted complete swaraj. For this, he also sought the help of the UN and US President Harry Truman. But not found. Those people didn't say anything.
The head of the Razakars who wanted an Islamic country was sent to Pakistan:
There was already communal tension in Hyderabad. At the same time there was opposition to Telangana. At the same time a group of Muslims was formed, MIM, headed by Nawab Bahadur Yar Jung. After his death, Qasim Rizvi became the chief. Qasim was the leader of the Razakars. The purpose of these people was to create an Islamic state. They did not believe in democracy. These people spread terror.
Whoever was against him was his enemy. Communists and Muslims who were different from him were also his targets. The main target were Hindus. As a result, thousands of people were killed. Women were raped. They felt that by doing this their great kingdom would become.
The patience of the Indian government was broken. Sardar Patel sent an army contingent to Hyderabad. After the arrival of the army, there was a fierce battle for 5 days. Because of telling police action, no other country in the world has put its hand. As soon as the military action was called, the rest of the countries of the world would have accused India that India has attacked any other country. The Razakars were completely ruined. Qasim was put in jail.
His office Darussalam was made a fire station. MIM leaders were sent to Pakistan or stopped from going out in public. Later, Qasim was given two days' time on his release from jail to go to Pakistan. When Qasim got two days' time, the biggest question in front of him was what would happen to MIM now. For this a meeting of MIM was held.
A lawyer named Abdul Wahid Owaisi was also present in this meeting. He took the responsibility on his shoulders. Changed the name of the party to AIMIM i.e. All India Majliye-e-Ittehadul Muslimeen. This is the same party which is now run by Owaisi bhai.
There were allegations against the Indian Army, the report came after 65 years:
There were many allegations on this fight. It was alleged that the people of the army and civil had started looting and rape in Hyderabad. But all these things were not allowed to come out. Sunder Lal Committee was also formed for this. But it took 65 years for its report to come out! This report came out in 2013. According to many people, 10-40 thousand people were killed in this fight. Some say that close to two lakh people died!
The report has clearly given the details of robbery and rape in Hyderabad State. Hyderabad was merged with India, but it had to pay a heavy price for it.