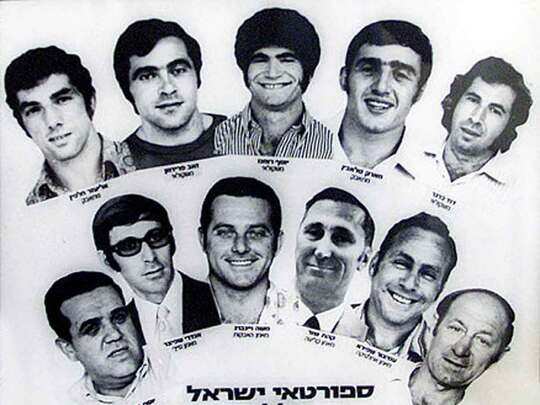 First of all, Mossad made a list of people who were related to the Munich massacre. After this, such agents of Mossad were searched who were ready to carry out Operation Wrath of God anonymously.
In 1972, the Olympic Games were held in Munich, Germany. Players from all over the world came to take part in it. More than a week had passed since the game started. No one knew that something was going to happen in the Olympic Games Village in the coming days, which would become the darkest chapter in the history of the Games.
The date was 5 September 1972. Eight strangers dressed in track suits like athletes were trying to enter the Olympic Village by climbing an iron wall. Then some Canadian players reached there. The strangers who climbed the wall were stunned, the Canadian players thought him to be a player from another country and then helped him to climb the wall. After crossing the Iron Wall, the Canadian players continued on their way. On the other hand, strangers wearing track suits reached outside the building where the Israeli players were accommodated.
The real face of these strangers came to the fore as soon as they entered this building. These were not players but terrorists armed with weapons. He was associated with the PLO i.e. Palestine Liberation Organization. The eight terrorists set out to carry out their mission with weapons in their hands. The wrestler Yosef Gutfreund, who was living in the apartment he first tried to enter, was still awake, heard the noise and reached the door but by then it was too late.
Gutfreund made a noise and alerted the rest of his comrades. The whole hostel was in turmoil, some players tried to run away, but wrestling coach Moses Weinberg ran into the kitchen and picked up a knife to fight. The very next moment a terrorist's gun roared and the bullet went out piercing Mosa's cheeks. After this the terrorists searched every room of the hostel and took the players hostage. Some lucky players managed to escape amidst the shootout. But there were some unlucky ones who fought the terrorists with full courage. He clashed with the enemies to save his comrades, but the terrorists did not take long to shoot him.
The next day the news spread all over the world as a sensation that Palestinian terrorists had taken 11 Israeli players hostage in the city of Munich, Germany. Till now the outsiders did not know that two players had already been killed. The terrorists demanded that 234 Palestinians lodged in Israeli prisons be released, but Israel bluntly said that no demands of the terrorists would be accepted. After this the terrorists threw the bodies of two players out of the hostel door, they wanted to send a message that the same situation would happen to the rest of the players but Israel's intention did not change.
The world was stunned to see the tough attitude of Israel's Prime Minister Golda Meyer. People felt that Israel had left its players to terrorists. But the reality is that Israel was trying to persuade Germany to send its special forces to Munich, but Germany was not ready for this.
Taking players hostage and bargaining during the Olympic Games. The whole world was looking at Israel with its gaze. People were waiting with bated breath to see what would happen to the Israeli players. Meanwhile, the terrorists made a new demand and the German government accepted that demand. The terrorists demanded that they be allowed to leave here, they wanted to take the hostage Israeli players with them.
The strategy of the German government was that terrorists and players would come out on this pretext and it would be easy to target terrorists at the airport. According to the plan, a bus was provided to the terrorists, which took them to the airport. Sharp shooters were deployed at different places in the dark at the airport.
The whole world was watching this scene live on their TV screens. The players were taken off the bus and made to sit in the helicopter. After a few seconds, sharp shooters started targeting the terrorists. Seeing themselves surrounded from all sides, the terrorists started firing on the unarmed players. A helicopter was blown up by a bomb. Then the players sitting in the other helicopter were also gunned down.
Within minutes every terrorist present at the airbase was killed. Along with this, 9 players of Israel also became victims of terrorists' bullets. Initially, news was spread through TV that only terrorists were killed, all 9 players were safe, but the next morning it became clear that no Israeli player was left alive.
Palestinian terrorists took 11 Israeli athletes hostage at the Munich Olympics and killed them. 8 terrorists who carried out this dreadful mission were also killed, but Israel was not going to sit still for so long. With the help of his intelligence agency Mossad, he planned to kill all those people who were involved in Operation Black September. This mission was named 'Wrath of God' i.e. the havoc of God.
Two days after the Munich massacre, Israeli forces bombed 10 Palestinian Liberation Organization targets in Syria and Lebanon, killing nearly 200 militants and civilians. But Israeli Prime Minister Golda Meyer was not going to stay for that long. He held a secret meeting with the Israeli intelligence agency Mossad and asked them to conduct a mission under which he directed the killing of all those people spread in different countries of the world, who were related to Black September.
First of all, Mossad made a list of people who were related to the Munich massacre. After this, such agents of Mossad were searched who were ready to carry out Operation Wrath of God anonymously. These agents were told that they would have to stay away from their families for years. He can't even tell the family about his mission. And most importantly, Israel will refuse to recognize them if caught. That is, without any identity, without any help, he had to carry out this mission.
Within a few months of the mission's launch, Mossad agents created a sensation by killing Well Jeweler and Mahmud Hamshari. Now it was the turn for the next target. Here too, the team of Mossad started surveillance day and night of a person suspected of having links with Black September. This man named Hussein Al Bashir lived in the hotel, and he used to come to the hotel only at night and leave as soon as the day started. Mossad's team plans to plant a bomb in his bed to eliminate him.
Planting a bomb was not a difficult task, it was easily done. The difficulty was how to find out that Hussein al-Bashir was in bed, only then could the blast be done. For this, a Mossad agent hired a room immediately next to Bashir. From the balcony there could be seen in Bashir's room. As soon as Bashir went to sleep at night. With a bang, his whole room blew up. Israel believed that he was the head of the Black September in Cyprus, although his closeness to the Russian intelligence agency KGB was considered important behind his assassination.
Beirut professor Basil al-Qubaisi was shot on suspicion of providing weapons to Palestinian terrorists. Two Mossad agents shot him 12 times. The three targets on Mossad's list were living under heavy security in Lebanon and had been impossible to reach with the methods of killing so far. So a special operation was started for them, which was named Operation Spring of Youth. It was a part of Operation Wrath of God.
On 9 April 1973, some Israeli commandos reached the Lebanese coast by speedboats. These commandos were brought close to the target by the Mossad agents by car. The commandos were dressed as ordinary people, and some were dressed as women. With full preparations, a team of Israeli commandos attacked the building. Two Lebanese police officers and an Italian civilian were also killed during this operation. At the same time, an Israeli commando was injured. Three more attacks were carried out immediately after this operation. In Cyprus, Zaid Muchasi was blown up by a bomb in a hotel room in Athens. At the same time, two teenage members of Black September, Abdel Hamin Shibi and Abdel Hadi Naka, were injured in a car blast in Rome.
Now it was the turn to bring those people who were directly related to the Munich Killing-e-Aam and once again started the bloody revenge of Mossad and under this mission...
On June 28, 1973, Mohammad Boudia, associated with Black September, was blown up by a bomb in his car seat.
On 15 December 1979, two Palestinians Ali Salem Ahmed and Ibrahim Abdul Aziz were assassinated in Cyprus.
On 17 June 1982, two senior members of the PLO were killed in separate attacks in Italy.
On 23 July 1982, Deputy Director Fadal Dani was blown up by a car bomb in the PLO's office in Paris.
On 21 August 1983, PLO member Mamoon Marish was killed in Athens.
On 10 June 1986, Khalid Ahmed Najal, general secretary of the PLO's DFLP faction, was killed in Athens, Greece.
On 21 October 1986, PLO member Munzar Abu Ghazala was blown up by a Kama bomb.
On 14 February 1988, two Palestinian civilians were killed in a car explosion in Limassol, Cyprus.
After seeing these figures, it becomes clear that the agents of Mossad went to different countries of the world and carried out the murders for about 20 years. When this face of Israel came in front of the world, it was criticized a lot.
Next up was Ali Hassan Salameh, the man who masterminded the Munich Killing-e-Aam and who prepared the blueprint for the captivity of Israeli athletes. The Mossad gave Salameh a code name, the Red Prince. Mossad spies were searching for Ali all over the world, but Salameh knew this too and that is why he had increased the security around him. In Norway in 1973 and in Switzerland in 1974, Mossad tried to kill Salameh but he could not succeed in his objective. After this, in 1974, an attempt was made to kill Salameh once again in Spain but he escaped again.
In the year 1979, that is, five years later, Mossad once again found Salameh in Beirut, the capital of Lebanon. On 22 January 1979, Salameh was also killed in a car bomb explosion. The culprit of the Munich murder had been killed.
But in Mossad's operation that lasted seven years after the Munich massacre, its agents killed nine out of 11 Palestinians. By the way, it is also a fact that in this secret operation that lasted for about 20 years, a total of 35 Palestinians were killed by Mossad.