The 2-week Capacity Building Programme (CBP) for civil servants of Arunachal Pradesh unveiled at the National Centre for Good Governance (NCGG) Mussoorie on 20thNovember, 2023. This is in furtherance to further improve the governance and public service delivery in North-East and Border States as per the guidance and directions of Honorable Dr. Jitendra Singh, Minister of State, Ministry of Personnel, Public Grievances and Pensions. An MoU was signed with NCGG in 2022 to train 500 officers of Arunachal Pradesh over the next five years. As part of the agreement, NCGG has already imparted training to 113 officers including the 30 participants of the ongoing 4thCapacity Building Programme.
The two-week capacity building programme has been scientifically tailored by the NCGG team and included the exchange of vast information, knowledge, new ideas, and best practices that promote citizen-centric governance. The sessions for each training programme were firmed up by the NCGG faculty based on the need of the state and in consultation with Government of Arunachal Pradesh. This capacity-building programme will help the civil servants in putting up dedicated efforts to fill in the gaps between policies and implementation in their respective work places.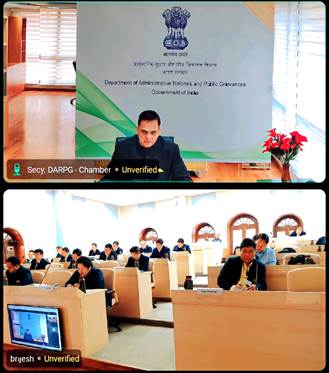 The Inaugural session was presided over by Shri V. Srinivas, Director General, National Centre for Good Governance. He requested the participating officers to make full use of the exposure that they will have during the programme and take advantage of the opportunity and urged them to share knowledge and work in groups as effective team building is essential to foster good ideas which can be utilized to improve the quality of life of citizens. He appreciated the efforts in Arunachal Pradesh in implementation of government programmes. In his address he highlighted the importance of redressing citizen grievances in a time bound manner and also effective handlings of court related work as these are mechanisms of ensuring justice to people. He stressed on the importance of harnessing the programme's maximum potential and learning from best practices, which can be modified to suit their own contextual settings. He emphasized on the pressing requirement for civil servants to fully capitalize on the digital revolution and embrace the latest IT innovations. He encouraged the officers to work in group activities and share experiences through presentations on saturation of priority sector programmes, how to be effective officers, Land reforms among other sectors.
Giving the welcome address and overview of the programme, Dr. B.S. Bisht, Course Coordinator of the programme said that in the 4th capacity building programme, NCGG will share various initiatives taken in the country such as equity and government intervention, public policy & implementation, fintech and inclusion, improving public service delivery, changing paradigm of good governance, ethical perspective in governance, disaster management: Indian and global practices, vision of India @2047: focus on civil services, executive judiciary interface, digital governance: case studies of passport seva and MADAD, technology enabled governance, leadership coordination and effective communication skills, Public private partnership for infrastructure development, approach to achieve sustainable development goals by 2030, aspirational districts, behavioral change management, Digital India, Water conservation: a village creates magic, Education in tribal region-Eklavya model residential school (EMRS), saturation of basic services in villages/service plans in NE region, development and conservation, promoting the livelihood: a case of Himalayan state, tourism: potential for growth, rural housing, overview of rural development in context to watershed management, climate change & its impact on bio-diversity: policies and global practices, innovations in public administration, overview of national security scenario, project planning, execution and monitoring-JJM, centralized public grievance redressal & monitoring system among other important topics.
The participants will also be exposed to visits aimed at observing a diverse range of developmental projects and institutions. These visits offer invaluable insights and first-hand experiences of prominent initiatives and organizations, including but not limited to the Parliament of India, AIIMS, Paryavaran Bhawan, MDNIY, NDMC, Pradhanmantri Sanghralaya, among others.
The overall supervision and coordination of the 4th capacity building programme is being carried out by Dr. B. S. Bisht, course coordinator for Arunachal Pradesh, along with Dr. Sanjeev Sharma, co-course coordinator, and the capacity building team of the NCGG.