An International Round Table Meet led by Union Fisheries Minister Shri Parshottam Rupala at the Global Fisheries Conference India 2023 has called for cooperation and collaboration between countries for a sustainable growth of the fisheries and aquaculture sector.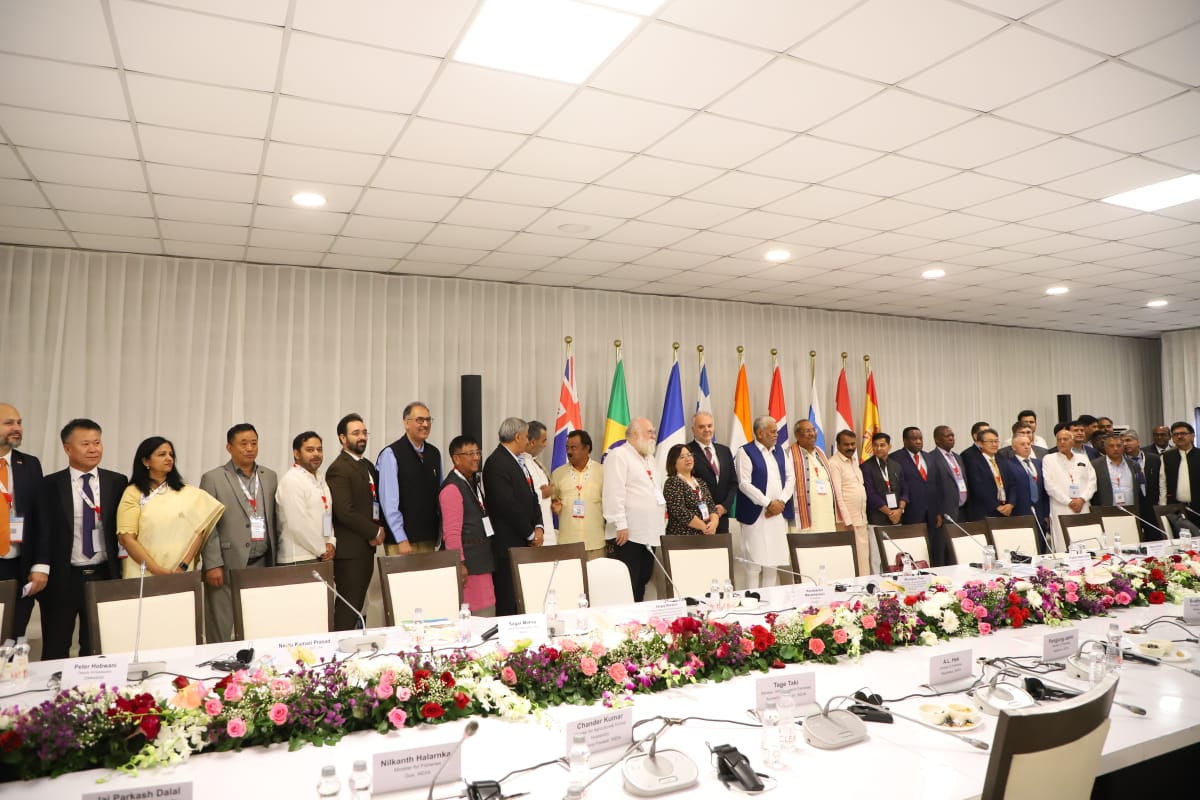 Partnering with other countries and organisations that have advanced technologies and expertise in fisheries and aquaculture to facilitate the transfer of technology and knowledge would greatly help to enhance the Indian fisheries sector, the meet suggested.
Speaking at the session, Union Minister Shri Parshottam Rupala said that the GPS system should be made user-friendly to the fishermen, utilising the global expertise and technologies. Cost-effective and reliable technologies are essential for marine navigation to be truly beneficial to fishermen venturing into the sea, the Minister said.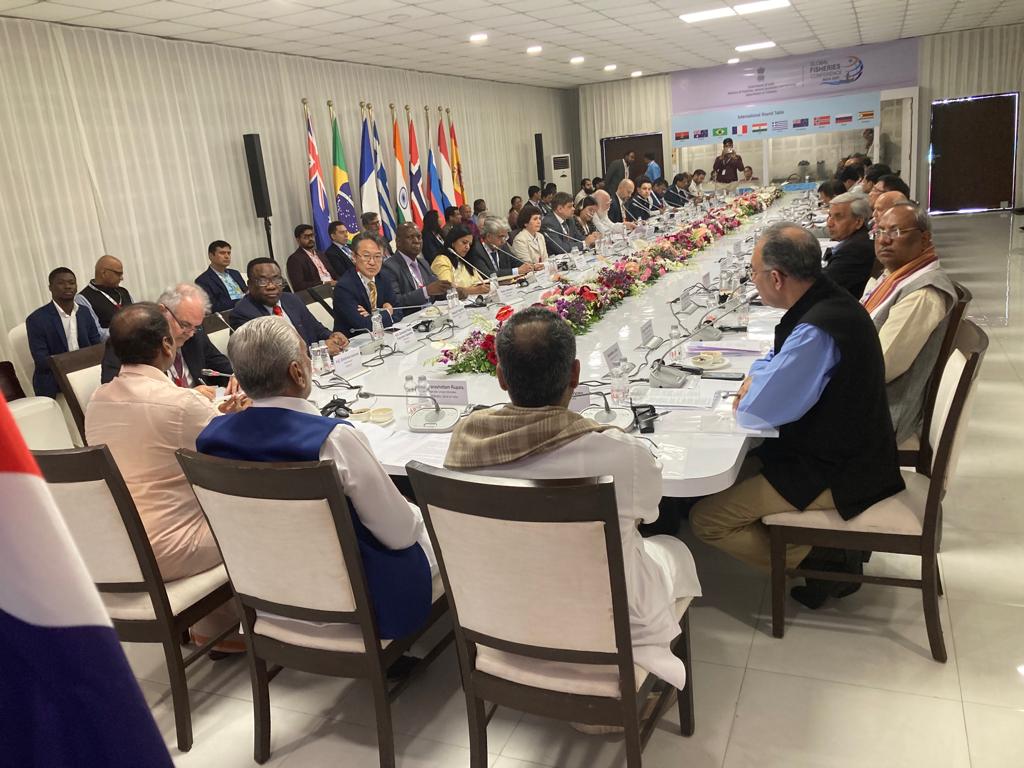 "Global exchange programmes in data collection and data sharing can play a major role to improve the fisheries sector, Shri Rupala said. By fostering collaboration and knowledge exchange, these programmes can facilitate the adoption of best practices, promote sustainable resource management, and develop effective mitigation strategies in response to climate change. This collective approach can play a pivotal role in safeguarding the livelihoods of traditional fishermen, who are particularly vulnerable to the escalating impacts of climate change.
Global data exchange programmes can significantly enhance the quality and availability of fisheries data, providing a comprehensive understanding of fish stocks, migration patterns, and ecosystem dynamics", the Union Minister said.
In his address, Mr. DimitriousIoannou, Ambassador of Greece, underscored the critical need to harmonize fishing and aquaculture practices with environmental sustainability. He advocated for a multifaceted approach that encompasses both domestic and international strategies.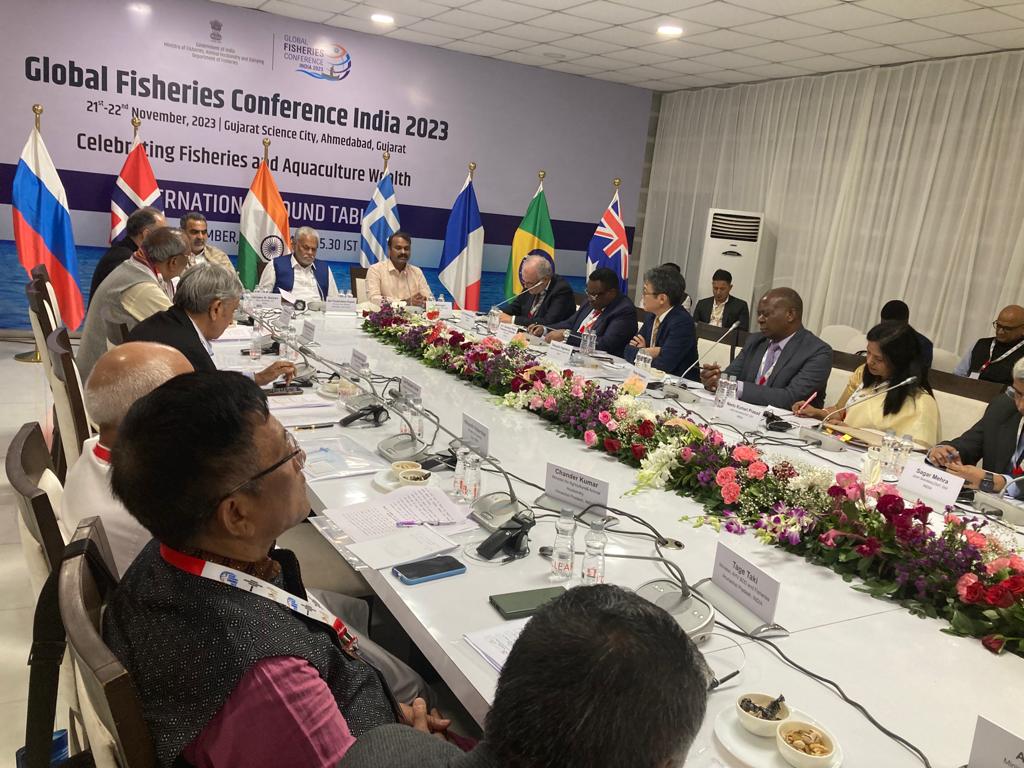 This high-level dialogue was attended by Ministers of State for Fisheries, Animal Husbandry and Dairying Sanjeev Kumar Balyan and Dr L Murugan, Union Fisheries Secretary, Dr Abhilaksh Likhi, Ambassadors from Greece, Angola and diplomatic delegation from Australia, Brazil, France, Norway, Russia, Zimbabwe and; State Fisheries Ministers of Uttar Pradesh, Haryana, Himachal Pradesh, Arunachal Pradesh, Meghalaya, Nagaland and Tripura; representatives of international organisations such as Food and Agriculture Organisation (FAO) of the United Nations , Bay of Bengal Programme Inter-Governmental Organization (BOBP-IGO), GiZ; Asian Development Bank (ADB); senior officials of the Department of Fisheries, Govt of India; senior officers of State Fisheries Departments and Heads of various research and development agencies. Dr Abhilaksh Likhi, Union Fisheries Secretary welcomed the gathering.
The forum underscored the need of exchange of adequate technology expertise to tap the unexplored deep-sea resources in India. The country has vast unexplored deep-sea resources and equipping the fishermen and the vessels with adequate technologies and training could utilise these untapped resources, it observed.
The speakers at the Round Table Meet identified four major areas which require international collaboration. They are enhancing fisheries production targeting food and nutritional security, strengthening of aquaculture to combat human hunger, sustainable utilisation of the resources in the fisheries sector, and development of deep-sea fishing.
Shri Sanjay Kumar Nishad, Minister of Animal Husbandry, Dairying and Fisheries of Uttar Pradesh emphasised the importance of collective efforts and advanced technologies to boost fish production and secure the livelihoods of fishermen and aqua farmers.
Highlighting the potential for growth in the fisheries sector, Shri Jai Prakash Dalal, Minister of Animal Husbandry, Dairying and Fisheries of Haryana announced plans for an Aqua Park, and he invited investors to participate in this development.
Shri Chander Kumar, Minister for Agriculture and Animal Husbandry of Himachal Pradesh, Shri A L Hek, Minister of Fisheries of Meghalaya, Shri Pangjung Jami, Minister of Fisheries of Nagaland, Shri Sudhangshu Das, Minister for Fisheries, Animal Resource Development of Tripura and Shri Nilkanth Halarnkar, Minister for Fisheries of Goa also spoke at the meet.
Foreign diplomatic delegations expressed their keen interest in fostering collaboration with India in several key areas, including research, data collection, resource monitoring and technology backstopping.
Discussions on expanding market access for Indian fishery products, collaborating with research institutions, universities and international organisations to conduct research on sustainable fishing practices, aquaculture technologies and resource management were also held during the session.
Mr. Clemente Pedro Francisco Camenha, Ambassador of Angola, Mr Peter Hobwani, Deputy Ambassador of Zimbabwe, Mr. Sergey Muratov, Head of National Research Institutions for Preservation and Safety of Fisheries Sources and Aquaculture, Russia, Mr. Monique Tran, Counsellor for Agricultural Affairs, France, Mr. Christian Valdes Carter, Commercial Counsellor, Embassy of Norway, Mr. Wagner Antunes, Head of the Trade Promotion Department, Embassy of Brazil and Dr Richard Niall, First Secretary (Agriculture), Australian High Commission spoke at the International Round Table Meet.
Joint Secretary, Department of Fisheries, GoI, Ms Neetu Kumari Prasad gave the summary of the discussion and the vote of thanks.
******