Chairman, KVIC Shri Manoj Kumar inaugurated several KVI activities during Tamil Nadu visit and interacted with Khadi workers during this visit. Presiding over a Khadi Karigar Sammelan held on August 19, 2023, at SITRA, Coimbatore, he expressed gratitude for the love and care extended by the Tamil people over the last 2 days. He emphasized that this event is not only a Khadi Karigar Sammelan but also a heartfelt interaction ("Man Ki Baat") between him and the rural artisans. He said Khadi serves as a weapon against poverty, starvation, and unemployment, while also contributing to development in villages and promoting women's empowerment.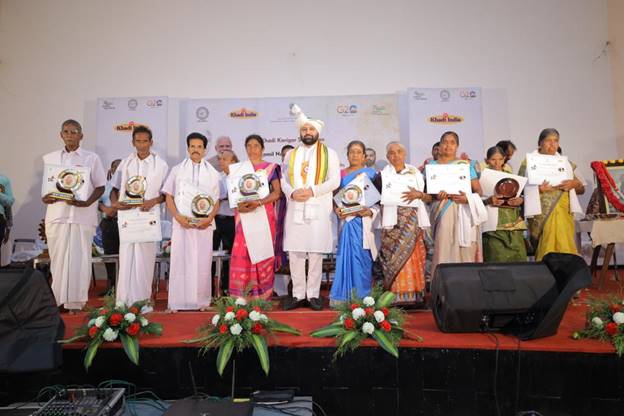 The Chairman honored the best-performing spinners and weavers by presenting them with certificates and momentum awards, in addition to distributing tool kits and equipment to around 40 Wood Craft artisans who have successfully completed the Training Programme on Waste Wood Craft which was attended by 800 rural artisans. During the event, a booklet showcasing success stories of the PMEGP beneficiaries was unveiled by the Chairman.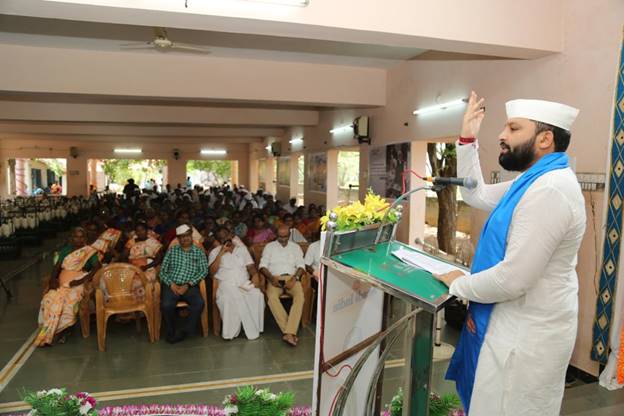 In his address Shri Kumar said according to data released by Niti Ayog, 13.05 Crore people have been lifted from poverty, and the dreams of the people are turning into reality under the leadership of Prime Minister Shri Narendra Modi.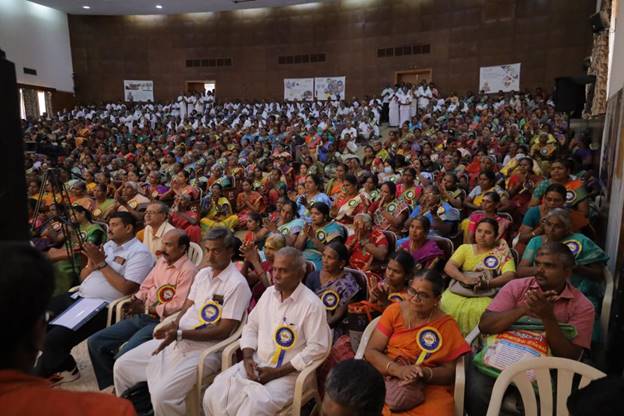 While Khadi was the pride of the national movement under the leadership of Mahatma Gandhi, it now stands as the symbol of 'Atmanirbhar Bharat' under the guidance of Prime Minister,Shri Kumar said. "Like Gandhiji who used Khadi as a powerful weapon against the British rule, Prime Minister Modi has transformed Khadi into a potent and successful weapon for eradicating poverty, empowering artisans, ensuring food security, uplifting social status of women, and overcoming unemployment," he said.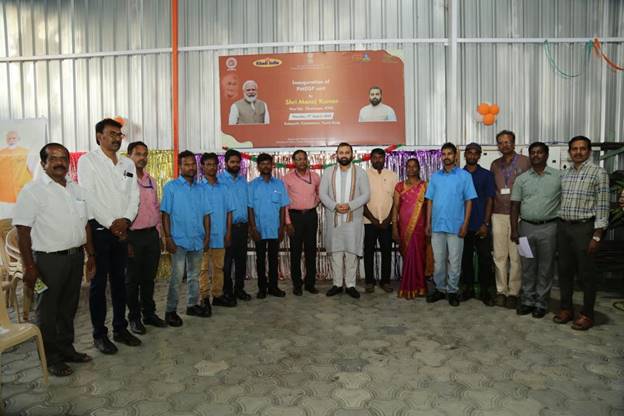 The Chairman said Prime Minister Shri Narendra Modi has called on many occasions from national and international forums to buy Khadi and Village Industries products and has mentioned about promoting this sector which since 2014 has seen tremendous growth. He said for the last 9 years, production of Khadi has augmented 260%, while sales of Khadi has increased 450%. He said that the Khadi Institutions in Tamil Nadu have registered a production of Rs.262.55 Crore and sales of Rs.466.77 Crore during the year 2022-23, which has helped to provide continuous employment to 14,396 artisans. Further, he informed that it has been proposed to increase the production to Rs.303.39 Crore and sales to Rs.477.02 Crore. He said KVIC through various schemes such as Khadi Vikas Yojana, Gramodyog Vikas Yojana, PMEGP, Scheme of Fund Regeneration of Traditional Industries (SFURTI) has generated more than 9.5 Lakhs employment. Chairman.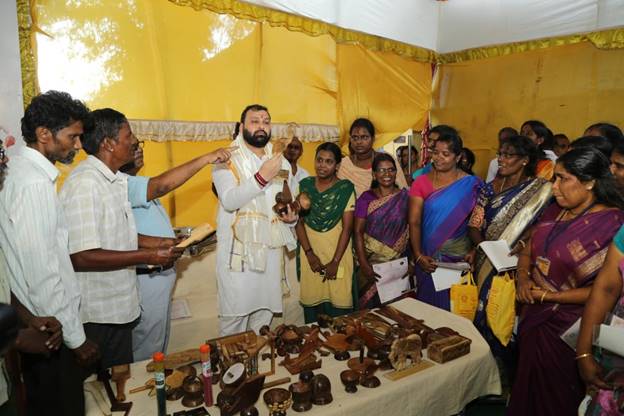 Earlier in his visit Chairman, KVIC inaugurated the PMEGP unit at Kalapet, the newly Renovated Sales outlet at Gandhigram Khadi Village Industries Public Charitable Trust at Gandhigram, Dindigul and a Common Facility Centre (CFC) of Yarn dying unit under KRDP Scheme of KVIC at the newly constructed workshed of Ramanathapuram District Sarvodaya Sangh, Srivilliputhur . He distributed tool kits and equipment to 25 Waste Wood Craft artisans and Pedal Operated Agarbathi Machines to 10 artisans under Gramodyog Vikas Yojana on 17th august 2023 and 18th August, 2023 respectively. The Chairman interacted with Khadi spinners and weavers during the Khadi Artisans' meet, and visited Khadi Gramodyog Bhavan of Madurai District Sarvodaya Sangh at Madurai.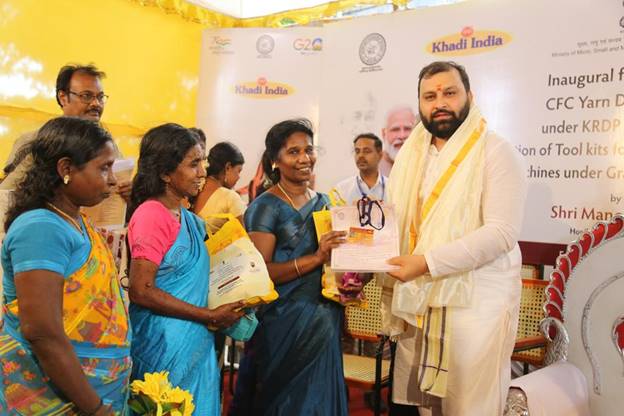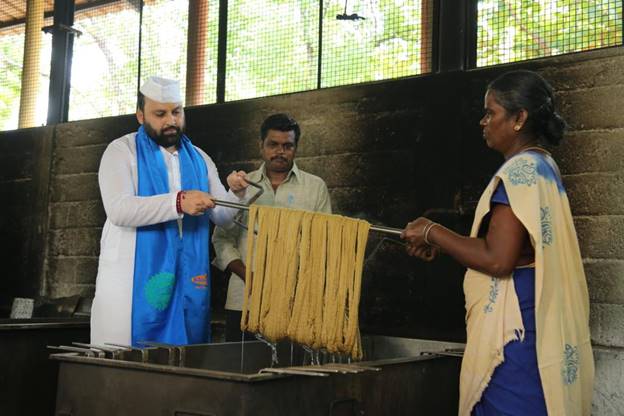 The Prime Minister Employment Generation Programme is a flagship scheme of Ministry of MSME, Govt. of India, providing sustainable employment both in Rural and Urban areas in setting up of micro and small units. The Scheme provides subsidy ranging from 15% to 35% depending upon the social category of the applicant and location of the unit with total project cost of Rs.50.00 Lakhs for manufacturing activity and Rs.20.00 Lakhs for Service activity.
*****